I have to be honest with you guys here, I love tichels( scarfs). Even though i wear a sheitel full time, i love the look of a nicely wrapped tichel. There is something exotic about them, and i feel like im in my twenties again shopping the outdoor markets in Israel.
I really only wear a tichel in my house but i still like to take the time to put them on nicely. You never know who is going to be knocking on your door. I like a thick and long tichel because the give bulk and they don't slip off. Since i mostly wear a sheitel i keep my natural hair short.
It is much cooler and convenient then trying to keep my natural hair long. The only problem is when i do wear a tichel it doesn't look nice. You need the bulk of hair underneath to give it that exotic Israeli style i love. I came up with a trick to create a bun with your tichel without the long hair to bulk it up. With help from these gorgeous tichels i received from
coveredwithstyle.com
i was able to create a "fake bun".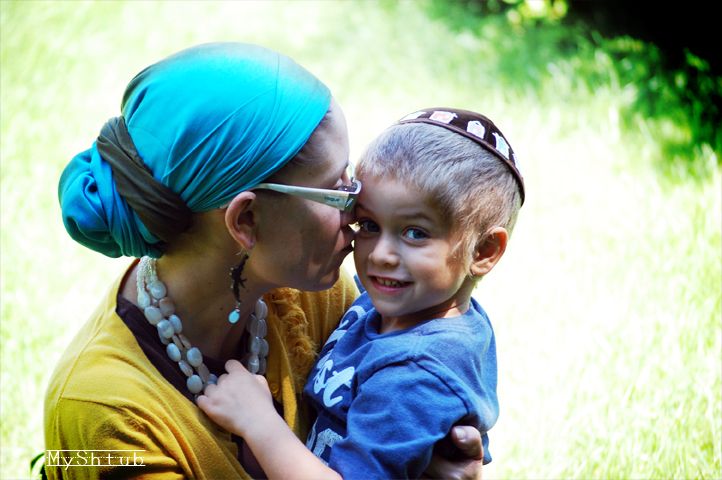 You will need two tichels..
A thin cotton one like
here
, or you can buy them at 7 mile market for $6.99 at their kiosk. Isn't that an amazing idea i can never pass up buying a new tichel when doing my Shabbos shopping.
You also need a nice thick one like these gorgeous two tones scarves
here
.
1.First you take your thinner tichel and fold it into a uneven triangle.
2.Next you place it on your head and tie the two ends under the triangle in the back ( kind of like a pirate, arrrrr)
3. Tuck the triangle under the tied part.
4. Wrap your ends to create a bun . This part does not need to look pretty and the bun will be empty and floppy , but that is ok.
Now you will take your second tichel and fold it into an uneven triangle allowing there to be a longer end. Now place this tichel ON TOP of the one you already have on. Tie again and tuck the triangle.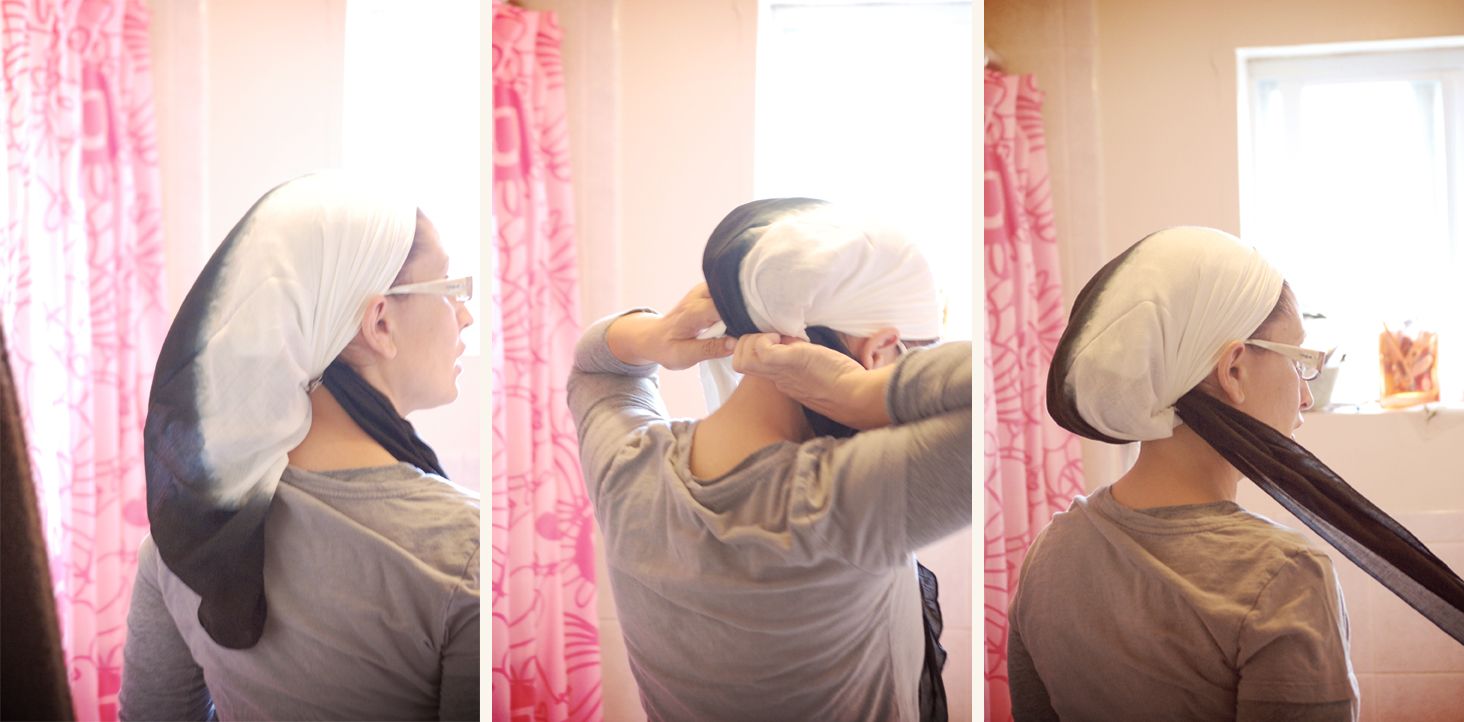 Do you see how much bulk it has even at this stage. Now wrap your ends very carefully to create a "bun". Tie in a knot on the bottom and tuck those ends in.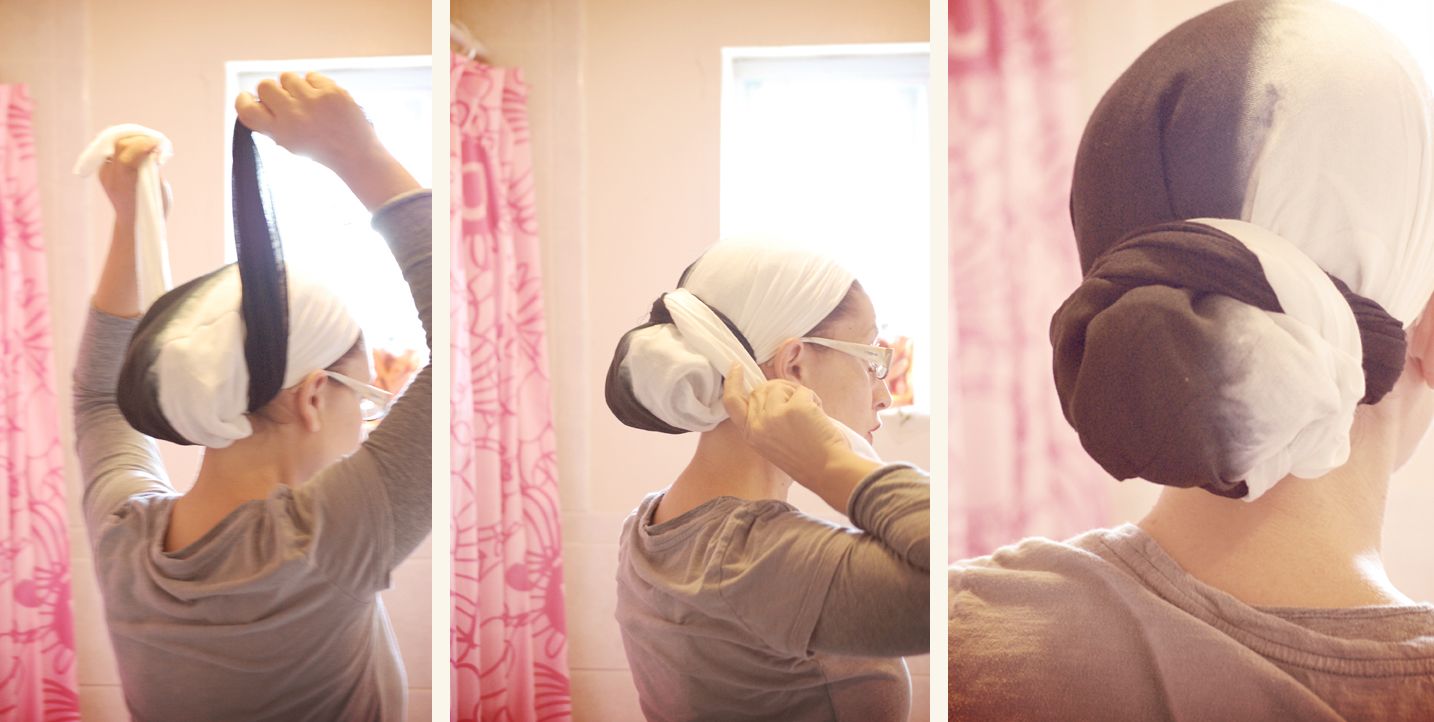 Doesnt it look great you would never believe that i do not have one stitch of hair in that bun. Now where are my bags i'm off to the shuk ( i wish).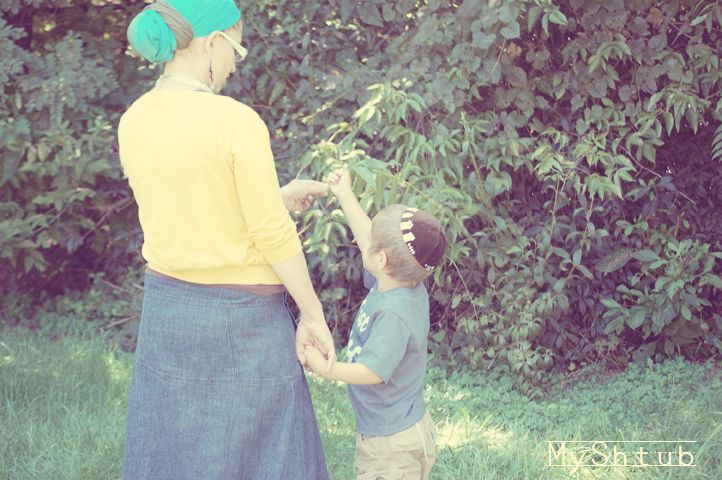 Coveredwithstyle.com
has beautiful tichels, but the best part is they have amazing prices. It is so hard to spend $20 on a tichel when you know you can buy them so cheap in Israel. I always had friends bring me back a handful of tichels when they go to Israel, bu not anymore.
Coveredwithstyle
has them at Israeli prices. Check them out.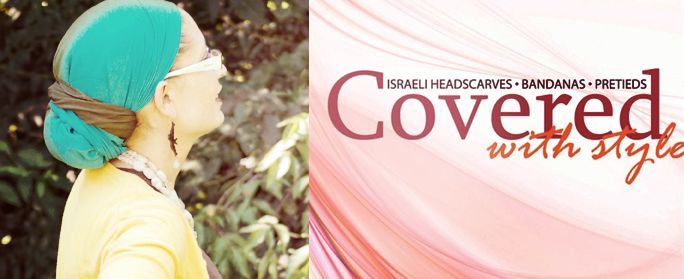 Coveredwithstyle.com
also wants to give MyShtub readers their very own gorgeous two-toned tichel. You can see them here. They are gorgeous and i absolutely love mine. What is amazing is they will be giving away one of each of the colors, that means the re will be SIX WINNERS!!! Now that is exciting.
Here is what you have to do to enter. Each item you complete you get an entry into the raffle. The more things you do, gets you a better chance of winning.
1. Go to coveredwithstyle.com and check out their two-toned scarfs
here
, then come back here and comment which color you love and why
2. Like coveredwithstyle's facebook page
here
4. Share coveredwithstyes's facebook page with your friends or on your wall
3. Create an account on their website
here
4. Post about this Giveaway on Facebook
You do not need to do all of the above items but you must do at least one to enter. Remember the more you do the higher your chances of winning, especially since their will be six winners.This contest will end one week from today on Monday August,22
Also to make things even more exciting
coveredwithstyle.com
is having a $250 Visa giftcard raffle check it out on their site. This is an awesome prize check it out
here
.
*Please leave a separate comment for each item you do. Have fun and Good Luck!
**Photos by my talented son Mel Givre