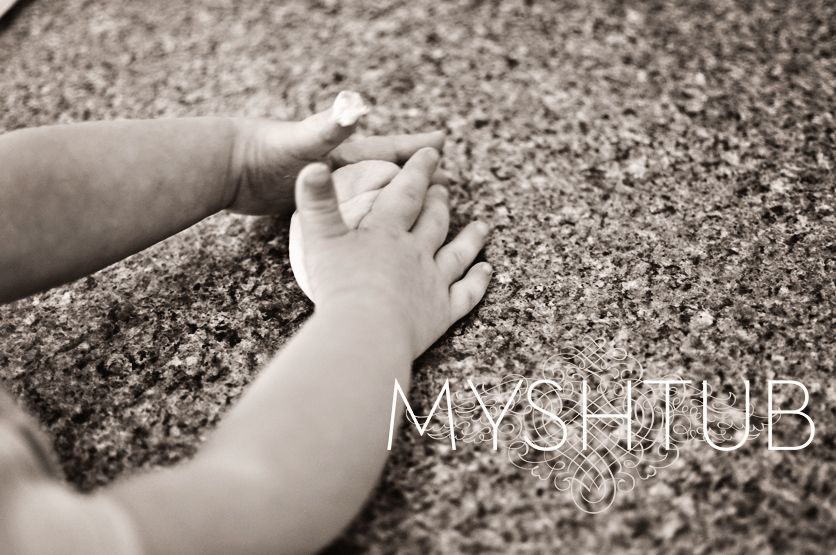 Im rolling out Challah with my little ones. My kids have watched me do this for years, they know the routine by heart. Rozie has gotten big enough to reach the counter so i hand her a piece to knead , but she doesn't want her small piece she wants the entire 5lb dough. I laugh and hand it to her. It is impossible for her to lift the dough to knead it properly, but she knows how this works and does her own version. She puts it down in front of her and shuts her little eyes and starts humming a nigun and attempts the knead the best she can. I look at my little girl and realize she is doing exactly what i have been doing. See i am a chassid, and when i make my challah i sing niggunim. I bring the dough down on the counter i turn it this way and that until it makes a perfect ball. I sing whatever tune comes to my head, today it is the Mitteler Rebbe's nigun. My kids know this and are usually excited to join in. Truth be told im not even a singer, but when i make challah it comes out of me.
There has been much debate about this online lately who is a chassid and who is not. Whose words are real whose are fabricated, like a contest, but im not about competing. Im about making my challah right now. Rozie is now asleep and Dovie is at cheder, so its now just me and the dough. I put my hands in and start to roll. I turn on one of my favorite CDs because i need it right now, and as the words of tehillim start to fill my ears i keep rolling and shaping. I soon realize my challah is wet with my tears but i keep rolling it and listening, see im a chassid this is what i do. I start to braid it into perfect 6 braided loaves. I was taught to do so long ago that it almost feels like a life time ago that i was sneaking jeans under my skirt as i learned to make this therapeutic bread. I keep rolling, I keep braiding. I know realize that i have made 12 loaves and there is no more dough , and i am suddenly alone. See today is the day, today is the day that i find out if i am completely healthy or if the cancer has spread through my body. Today is the day the doctor will tell what my future holds, and im now not quite sure what to do with my hands, but i am a chassid, so i stand up. I don't wash my hands i let the left over oil soak in. I need that oil today. In our lives we get so overwhelmed with the mundane and suddenly it feels a lot bigger then it really is. I feel like my world has suddenly gone crazy with Asifa and internet, ladies who are and are not chassidish enough. Who has a right to speak and who doesn't, and i feel like i have so much to say and contribute to these conversations, but i cant. I can't spend my time reading these articles and the counter ones, and the article countering the counter article. How can i worry about such things if i don't even know if i will have a future to worry about. My time is filled of thoughts of my children and if they lost a mother. Of my husband who already lost his mother and if he could handle losing a wife. My thoughts are so far from internet discussions and the happiness of Jewish women in a repressed society. I just want to live, i just want to walk into my doctors office and for him to have a smile on his face. Ive seen that smile of his before, i need to see it again. Its is funny where life takes us on this roller coaster, up and down, and often when we are up on the highest point we really feel like this ride isn't so scary, then it drops, and the next time you go up you realize how wonderful that top is.
It is time for me to put the challah in the oven, and im almost tempted to make another batch, but i cant i need to go to my appointment. I will give some tzedaka, i will think good things, and i will bring with me a picture of the Rebbe. I need his strength today.
I am a chassid