Tell me about your family dynamic, who is who?
I am married to a sweet man who works a lot allowing me to be home with my little ones. We live in Baltimore, MD and have three wonderful beautiful kinderlach.
Mel or Melech: my oldest is 17, he is not in the pics as much because he is 17 and would rather not be pictured, i try. He is also in Yeshiva full time and lives in New Jersey during the school year ( sniff , sniff)
Dovie ( Avrum Dov) : is our 6 year old, the middle child that will not get stuck or pushed aside in the middle, he is loud and has TONS of energy. He is at the age where he talks all the attention to himself, and then he talks some more. He cracks us up everyday
Rozie (Nechama Roza): is our 3 year old princess that gets a ton of attention, maybe too much, she milks it, oh boy does she milk it. She also gets a lot of attention here on this blog because of having Down syndrome. I love all three of my beautiful children the same but Rozie's diagnosis causes me to ponder, write and work things out a little more ( in a good way).
You talk a lot about the desert, and hating the cold, why?
I was born and raised in the Arizona Desert where it is warm all year long, and lived there for almost thirty years. I grew up on twenty acres of land raised by hippie parents. I had a childhood of freedom, and i rarely wore shoes. I often miss and daydream about living in the desert again. I can feel the soft sands of a desert wash on my feet, and smell the rain coming. I wish my children had these same memories, but they are city kids and don't long for cactus and mountain views like i do. They love the snow, what can i say?
So are you Jewish, or what?
I was raised Jewish but not religious. Both of my parents are Jewish but from the Hippie generation, need i say more? One day I went to Israel, and like many young Jews it changed my life.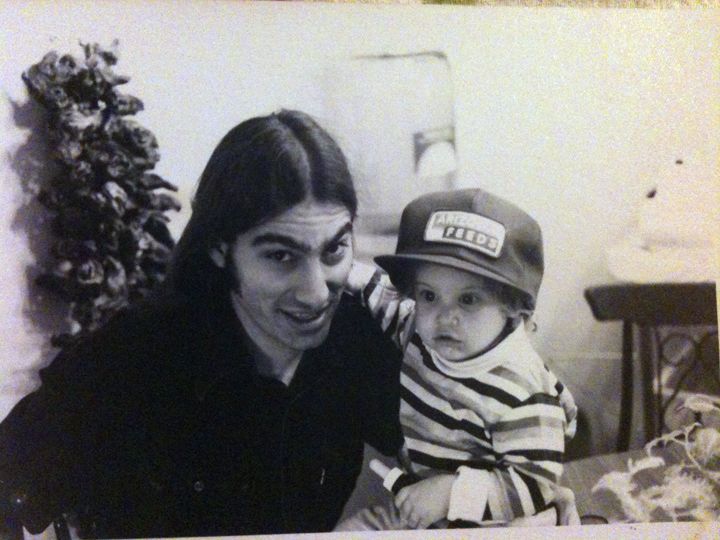 ( yup that is me and my dad, probably around 1976)
We are Lubavitch Chasidim and live much of our lives according to the Rebbe's teachings. With that said i am also open minded and accepting of mostly anything, you did see how i was raised.
Is that a wig you are wearing?
Why yes it is , thanks for noticing. I wear a wig full time out in public and a scarf when i'm home. I follow the Jewish orthodox custom of a woman covering her hair when she gets married. Because i am Lubavitch i also cover with a sheitel (wig) so i can cover all of my hair. No hair lines or little hairs by the neck showing. I hold by 100% hair coverage and that is only possible, for me, with a wig.
Do you really have the big scary C-word you look so healthy?
First of all yes i do. I was diagnosed right before Rozie's first Birthday with Chronic lymphomic Leukemia, read more
here
. I stayed healthy for awhile then in April, 2011 I became very ill and needed Chemotherapy.
Shortly after my hospital stay i got amazing news that my CLL miraculously disappeared and instead i have a mild Lymphoma. They stopped chemo and i resumed my life again. Read that story
here
.
So are you all cured?
Nope, unfortunately. I'm still waiting for that. I'm sure its in Hashem's plans.
I still have a blood cancer but now its in the form of a Lymphoma i have to do a 2 yr maintenance therapy for that. This drug therapy is also an infusion and i go into the hospital every sixty days to have it administered. The side effects are bearable and liveable, unlike chemo.
This also means i need to keep my surgical port that is under my skin in my chest. I hate and love my port that we have named "Pepe". I love not having my arms stuck all the time, but i hate having this alien under my skin. You'll notice i wear a lot of chunky necklaces to hide it. With all this said i am thankful to have my life back, and you'll hear me talk about that a lot.
My doctor is almost ready to give me the remission badge. I have been cancer free for over a year. I have also stopped all cancer treatment medication B"H.
Tell me about your photography, what is in your camera bag?
I have a Nikon D-40 i bought from a friend on a whim and my IPhone. I mostly use a 55-200 zoom lens, that way i can sit back and catch all the action.
I edit in Photoshop. I recently took up this hobby and i'm hooked. I bought the camera so i could take better pictures of my kids. I didn't realize it would become my personal therapy. In high school i liked photography, but it was more about dark room development then. I went to college at the University of Arizona for fine arts. Being creative has always been part of my genetic makeup and photography just kind of slid in.
I now have D90 and my prime lenses are my new best friend. I use my 85mm prime in most of my pics.
Any photography advice?
The best advice i can give is get into it. You may have to stand on the table or crawl on the floor ( yes even in public places, and trust me it can be hard in a skirt) to get that perfect shot. All the embarrassment is worth it in the end.
Why is your Watermark so darn Large?
Its very simple: people keep stealing my pictures. I had this watermark made with a few extra deterrents and try to keep it near the face. Nothing is full proof, but i try.
Where do you buy your kids clothes?
Honestly Target. I love Target and don't have time for the mall. Target is where i buy my clothes, my kids clothes, and the laundry detergent to wash it all. I also shop at Old Navy, Children's Place for Dovie, Gap clearance for Rozie ( i love their girls clothes), and H&M kids. My oldest loves Zara, but im not Mrs.Trump so we do a lot of H&M for him also. In general i try to mix ad match and come up with unlikely combinations, this gives their Target fashions a unique look. Im not into matchy matchy, i love to mix prints and colors. I pretty much dress them in whatever looks and feels good to me, so that can mean a tan H&M dress with little black deer silhouettes and purple strip knees socks from Target clearance. I also buy girl's pants for Dovie, because i love skinny jeans on little boys, please don't tell him, lol.
I have recently been obsessed with Zulily i love their stuff. You can check them out here.